Pocket Mariner provide professional port, ship and fleet management services and apps for Ports, Harbour Authorities, Fleet Managers and Shipping Agents. Our most recent deployment is with Portsmouth International Port and Portsmouth Pilots. Read more below and please contact us at fleetwatch@pocketmariner.com  or telephone +44 1291 689202
Fleet and Port Watch – AIS ship monitoring service
Fleet Watch provides real time AIS feeds, alerts, historic event information and ship movement playback for all the ships in your fleet or port, both around a port area and across the globe. Events include area entry, exit and crossing (GeoFences), directional traversal across boundaries and status alerts (arrivals and departures). Playback allows you to replay shipping movements in your area second by second from any time in the past to assist with event investigation, demurrage reduction, resource utilisation, market research, training etc.
Ships, alerts and playback are easily configured, managed and viewed using your dedicated and secure Fleet Watch web interface.
Fleet Watch monitors live ship positions via our local and global AIS services and records AIS history and when an event is triggered, forwards an alert via email. The alert email includes details on the alert including maps of the alert area and ships around the ship's current position. These maps can also be viewed via the web interface.
Our real time AIS feeds can also be used to power network aware AIS marine applications such as  SeaNav AIS Marine Charts and Navigation  and SevenCs Orca G2 pilot.
More details on the service configuration and use are provided below. If you are interested in learning more please contact us at  business@pocketmariner.com or telephone +44 1291 689202.
1. Manage your ships
Enter the details  including MMSI and IMO for the ships you want to monitor. Select a ship to view its recent alerts, photo and last alert.
View your fleet's current positions and status on a world map.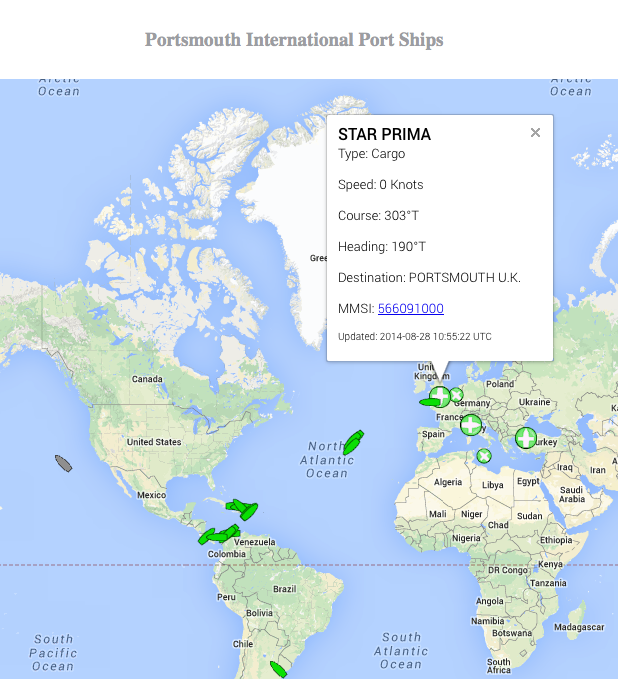 2. Configure Alerts
Geofences lets you configure alerts for all ships or just your fleet ships.  Alerts are available on entering or leaving an area, crossing a cardinal line and arrival and departures in a specific area or anywhere in the world.  When an alert fires an email is sent to all the alert addressees containing details for the event including a map of where the ship triggered the event and a live map of the ship's current position.
Drop down to the detail view to see the geofence alert position on a map to help you identify and set it.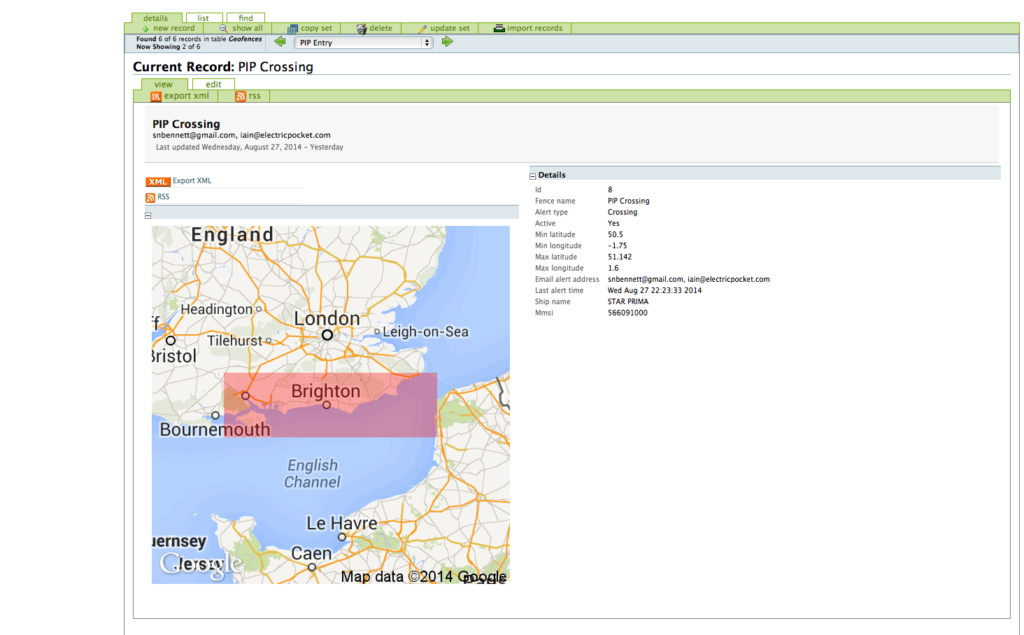 3. Browse events
Use the Ships tab to see details on the most recent events for a ship.
Tap on an event and see a map showing where and when it happened.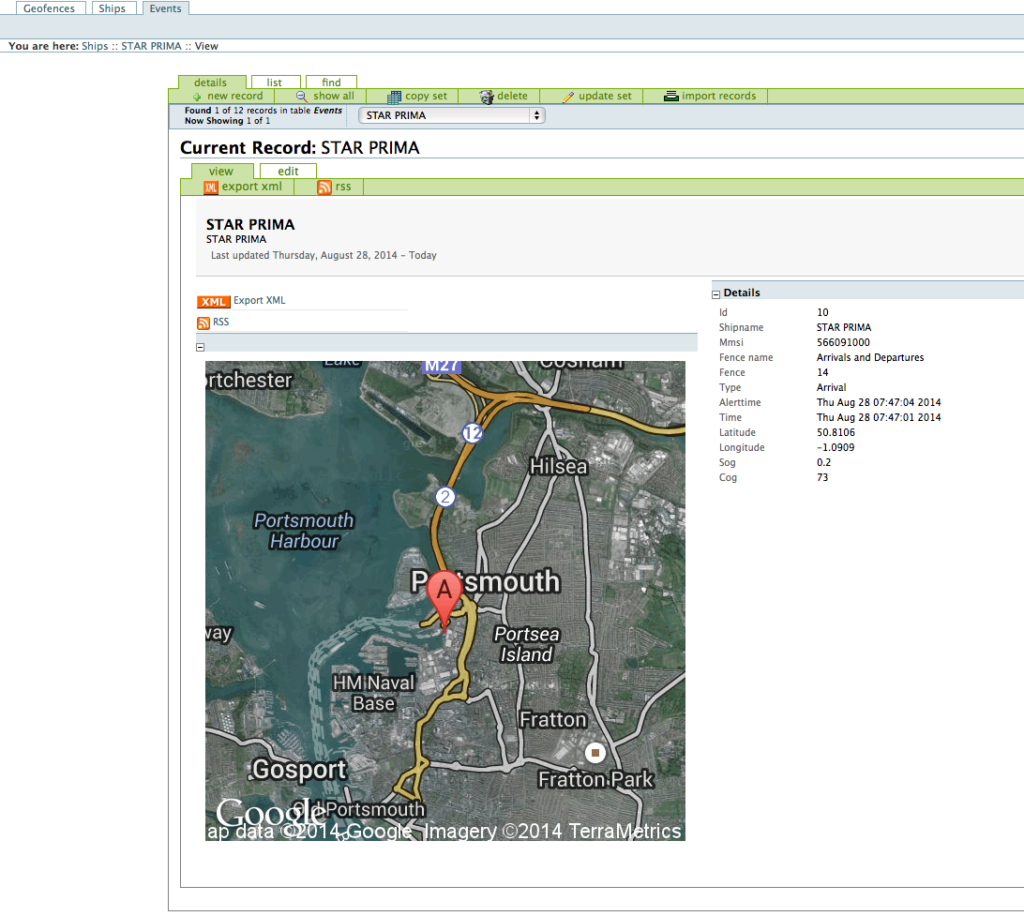 4. Playback ship movements
Fleet Watch records all the AIS data for your port or area of interest. We typically keep the data for the last 30 days but this can be for as long as you wish, through months and years or forever. You can retrieve ship movements from any day and time in your Fleet Watch past and replay them on our web map view and via dedicated internet TCP ports to AIS apps like our iOS and Mac SeaNav chart plotter and marine navigation apps and SevenCs Orca G2 Pilot.
Here is the playback management view for Portsmouth International port.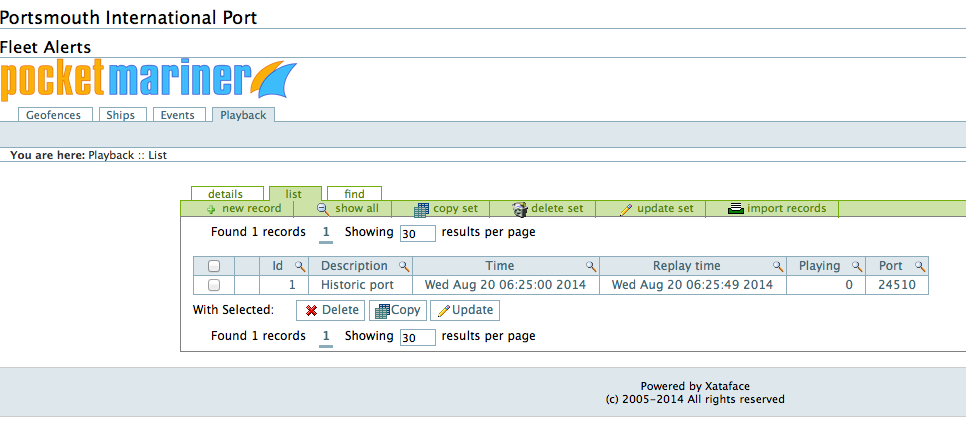 Fleet Watch lets you set up any number of playback ports to allow multiple users to view the same or different replay scenarios at the same time.
Select a record to access the Play/Pause and Rewind controls for that period.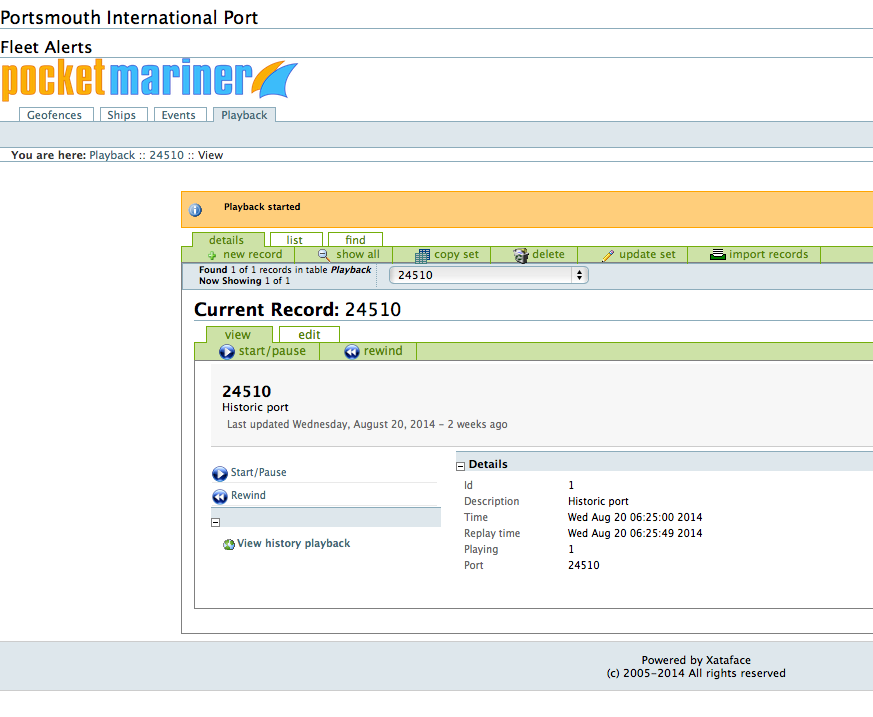 Tap the Start/Pause button to stop and start playback. Select "View history playback" to watch the playback on a live map. At the same time you can connect via the TCP port (Port number) to view the data on your favourite Chart/AIS Plotting devices and Apps. You can pause the replay at any time and pick-up from where you left off by hitting play again. Tap Rewind to start playing from the beginning of the selected period again. Replay automatically stops after 1 hour.
You can see a short video recording (1.5 minutes)replaying the arrival and docking of the Normandie ferry at Portsmouth International Port here :- http://youtu.be/5Jc4Y9qvKwQ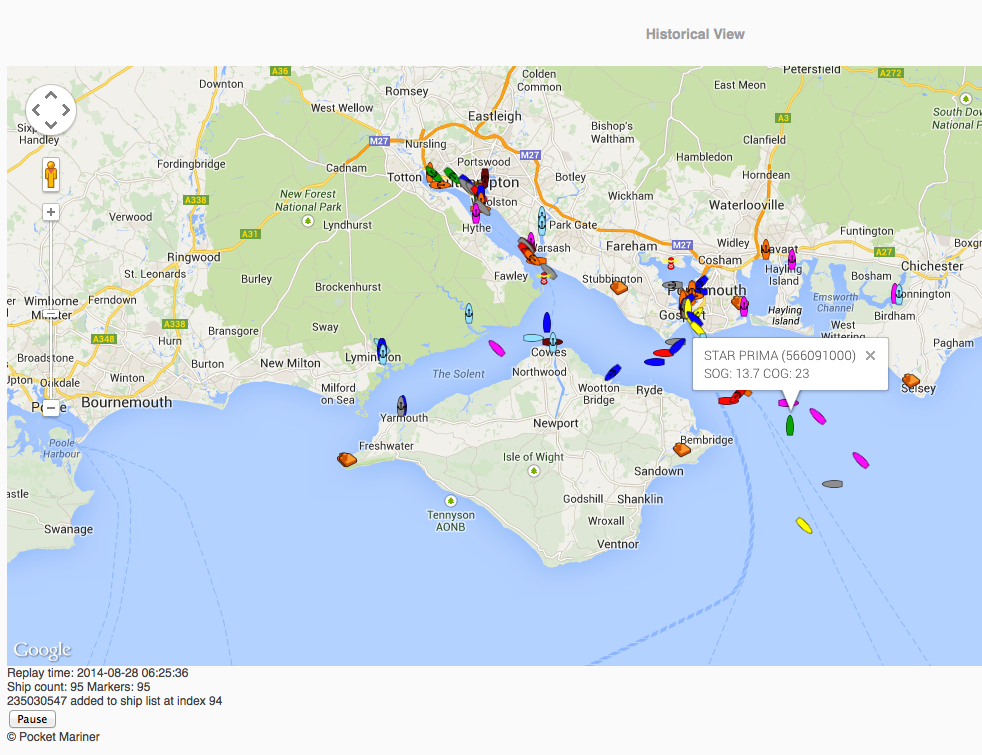 Select the Edit tab to pick and change the replay time with a simple calendar. The time server will retrieve the archive and place it ready to start playing at the time you selected. Go back to the Browser view and hit Play to start from the new date and time.