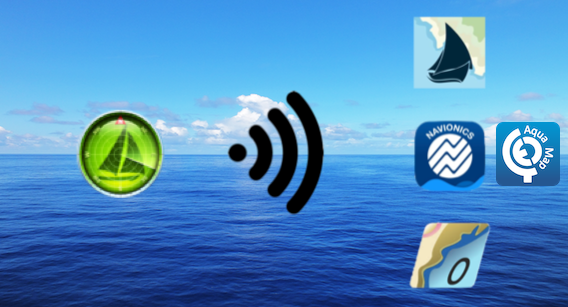 Boat Beacon
can now share its real time AIS feed from our global AIS aerial network via NMEA with other apps on the same device or on the same Wifi Network. Boat Beacon acts as a "Virtual AIS Receiver" with over the horizon coverage and is the first and currently only app out there that offers this.
Boat Beacon's global realtime AIS coverage.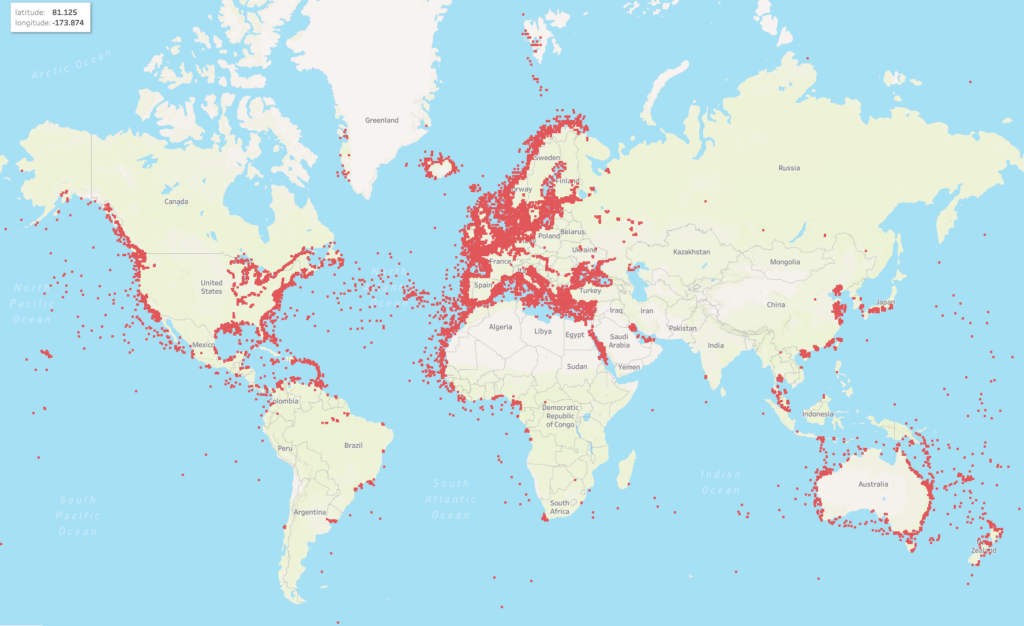 We hope this will prove popular with folks who already have other Marine Navigation apps/charts like Navionics,  iNavX, Aqua Map and  OpenCPN etc. which support an external NMEA AIS feed but don't have their own Internet based AIS network or feed available.
The new Boat Beacon AIS Share feature is free to trial.  If you find it useful you can use it any time when you are out boating for a small monthly or annual subscription via IAP.
You can get the latest version of Boat Beacon from the Apple App Store 
here
 and Google PlayStore
here
.
By the way, our own top selling marine charts navigation app SeaNav already has AIS built in as standard and if you haven't tried SeaNav why don't you give it a spin for free first, you can download it from here now 
https://apps.apple.com/app/seanav/id857841271
.
Here are some screenshots from Navionics, iNavX and OpenCPN using it.
 iNavX on same  device ( using TCP 127.0.0.1 port 5353 )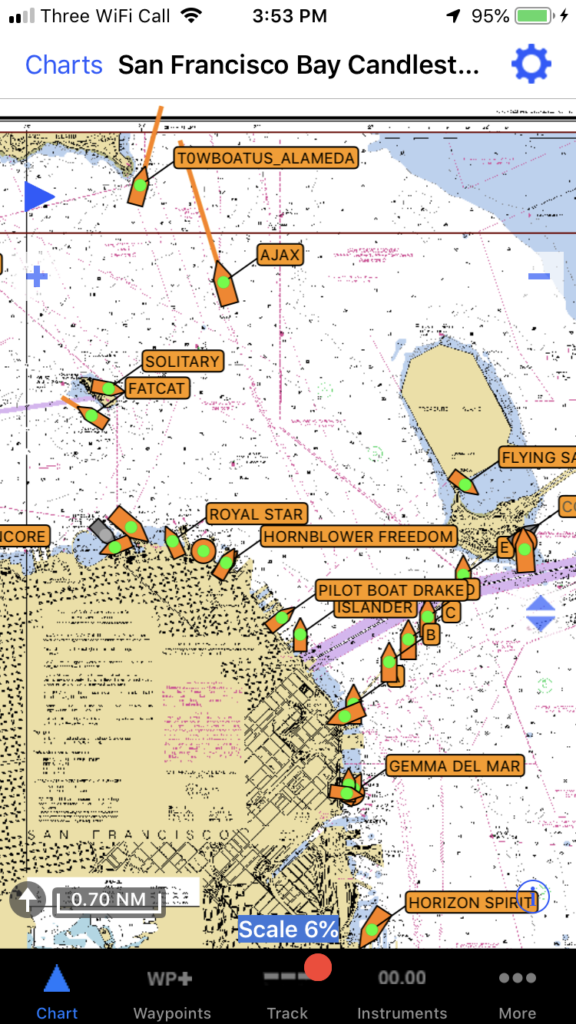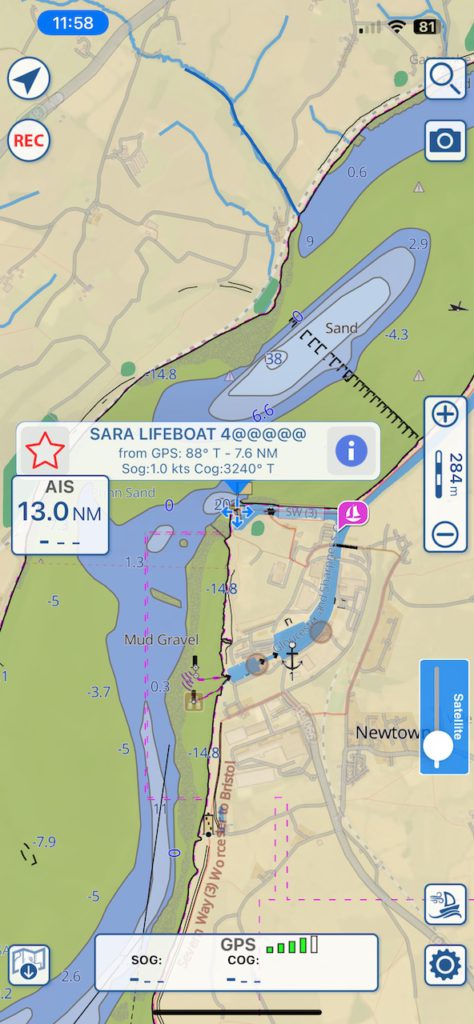 OpenCPN running on a Mac via Wifi to Boat Beacon running on an iPhone ( TCP to 192.168.1.106 port 5353).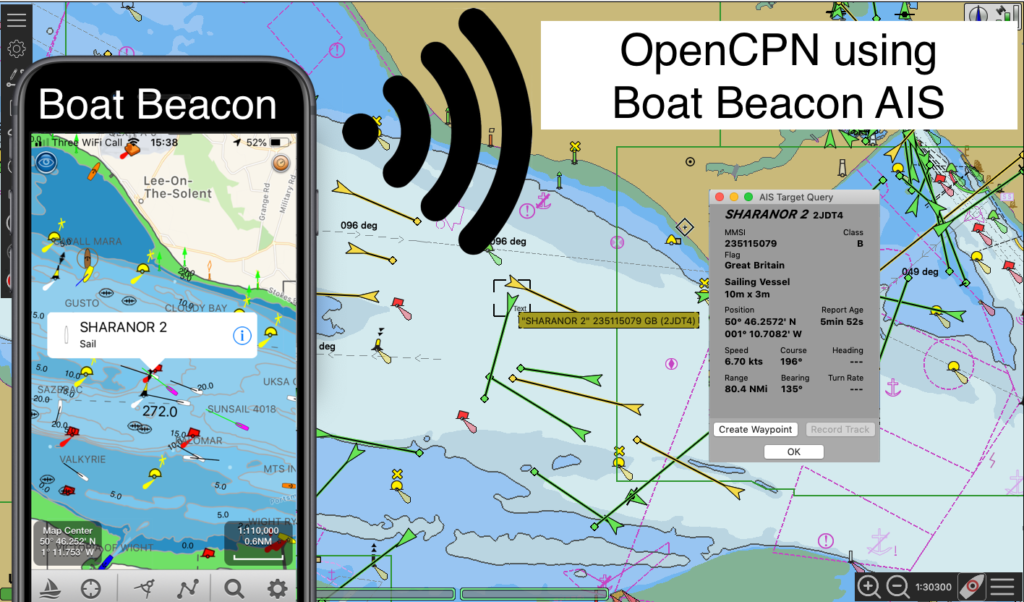 and here is the description in our user guide:-
AIS Sharing
Share Boat Beacon's real time internet AIS feed via NMEA with other apps on your device and on the same Wifi network, like Navionics, OpenCPN on your Mac, iNavX , AquaMap etc. so you can see live ship positions around you on their charts as well. Pocket Mariner's AIS service is fed by one of the largest network of AIS shore receivers world-wide covering most major ports, harbours and popular coastal areas with over 60,000 live ship positions at any time. Boat Beacon acts like a virtual AIS receiver and can also share your live position via Internet AIS with other users and internet based AIS services like MarineTraffic. After purchasing the Boat Beacon AIS Sharing IAP (monthly or yearly subscriptions available) just set your other apps NMEA TCP settings to connect to the IP address and TCP port (default is 5353) shown in Boat Beacon's AIS Share setting. If you are sharing with an app on the same device you should use 127.0.0.1 as the IP address to connect to instead of the actual device IP address so you never have to change the setting when you are on a different network. Boat Beacon must be in sailing mode when sharing with other apps on the same device so it can track your position and continually update the live AIS data around you in the background. Tap the SailBoat icon  bottom left to enable Sailing mode. In the unlikely event that you need to change the TCP port number in Boat Beacon to another number, tap on the AIS Share setting row and enter it. 
On iOS you can try it out at home when there are no boats around your location by putting Boat Beacon into Demo mode ( Settings/Demo mode) first and then set sailing mode. Make sure the other app is showing the same map location as the demo mode is. Make sure to turn sailing and demo mode off when you are done. If Boat Beacon is not displaying any ships around your location then no ships will appear in the other apps either.
On Android get a 3 day free trial to try it out when you sign up for one of the subscription options. You can cancel the subscription at any time and will not be charged anything if you cancel before the end of free trial period.
Get the latest version of Boat Beacon from the App Store from here now and Google PlayStore here.