We were recently asked by someone who uses SeaNav for fishing trips if there is a way of adding locations/points of interest  (POI) so they could mark their favourite fishing areas whilst at home and then navigate to them when on their boat. There is; though it might not seem obvious at first. You can use Routes and Waypoints with just one waypoint.  Talking with Matt and trying to explain how to add waypoints and routes it also became clear that it is not simple to the un-initiated. So we are following up with some more detailed instructions. To add a new route you need to make sure the Sailing icon bottom left is not selected (must be gray rather than blue).  You cannot create or edit a route if you are in sailing/navigation mode. To create a route tap the route button, middle of the row of icons at the bottom.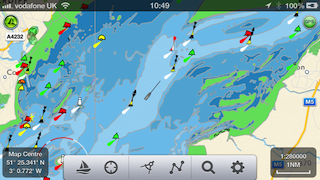 A popup will show.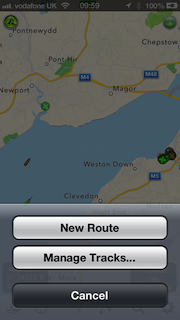 Select "New route" from the popup by tapping the button. Then tap and hold for about a second anywhere on the map to put down a waypoint/marker. Don't worry about being precise, you can drag and drop the pin by placing and holding your finger over it , to where you want it.  If you quickly tap the pin a popup will display its name (WP1) and Lat and Long with a red cross to delete it on the left (you can't delete it if its the only pin – you can delete its route later). Tap the blue arrow on the right of the popup to change the name of the marker. You can also edit the name of the route by tapping in the name box at the bottom where it says "Route1".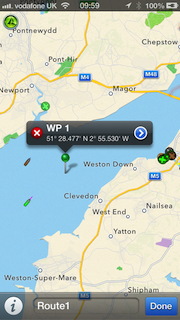 When you are done setting up your marker, tap Done, bottom right and you now have a route set up. You can of course add as many waypoints/markers to a route as you wish and you can add as many routes as you wish. After tapping Done this route will now be your active route. Tapping the route button again will let you add another route or edit your existing ones including selecting a route if you have many set up.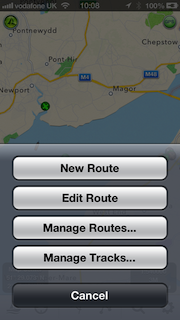 When you have a route selected and displayed and then tap the Sailing button, SeaNav will enter navigation mode and show the name, distance, bearing, Cross track error  (arrow at the top on the left pointing which way to steer to get back on track and how far off direct track you are), velocity made good towards the waypoint (VMG) and Estimated Time of arrival (ETA)  to the closest Waypoint/Marker as well as your course (COG) and speed (SOG), updating it in real time as you navigate. SeaNav will also sound an alert when you get close to a Marker.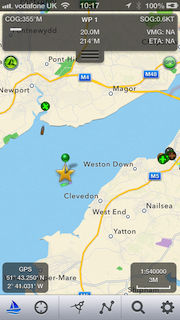 We hope this helps, please let us know if it does or if you have any questions/suggestions – you can email us at 
help@pocketmariner.com
There is also quite an extensive user guide and FAQ in the app (tap the i button far right at the bottom)  and also via this
web page
:-