Live Marine AIS Navigation on your iPhone, Apple Watch and Android Smartphone.
Boat Beacon was designed and developed by Pocket Mariner's sea-faring CEO after a near miss at sea – the app provides an affordable and reliable AIS-based collision detection system for iPhone and iPad or Android smartphones and tablets. For the full background to Boat Beacon, read The Skipper's Story – How Boat Beacon Came to Be
Boat Beacon is available now in the App Store for iPhone and iPad and in the Google Play Store for Android phones and tablets. Free exclusive support for the Apple Watch too with  AIS collision detection, man overboard alerts and navigation tools that run directly on the Apple Watch.  Boat Beacon can also share its AIS feed with other apps like Navionics on your device and network to internet AIS enable them too.
Specifically designed for use on the water, uniquely providing Bearing, Range and Closest Point of Approach (CPA) calculations in addition to all the standard AIS information. Uses up to the second AIS feeds unlike the other AIS apps which can be a minute or even more behind real time. Transmits as well as receives AIS and the only app that continuously monitors CPA, notifying if potential collisions are detected even when the app is in the background.
All the following features come as standard in the app when you purchase it (no subscription required):-
Real time map view of your boat and boats within 30NM of  you via AIS over normal or satellite map view.
Ship details with distance, bearing, type, size, name, destination, eta and photos etc.
Ship vectors showing future predicted positions.
Live AIS feed from our global network of AIS receivers with industry leading coverage.
Over the horizon collision avoidance and alarm using Closest Point of Approach (CPA)
CPA calculations and AIS position updates continuously in background while you navigate.
Enter your own boat details including length, width, type, MMSI (optional), photo etc.
Lets others see you on Boat Beacon and internet AIS systems like MarineTraffic.

With transmit enabled your boat will appear on other Boat Beacon devices. If you enable AIS sharing and have an MMSI number* your boat will also appear on live AIS traffic sites and their associated mobile applications like MarineTraffic etc.

Compass mode to sight ships on the map with heading/course or north up settings.
Current Speed, Course and GPS location
Track recording and sharing
Man Overboard tracking (iOS only at present)
Anchor Watch and Theft Alarms (iOS only at present)
Magnetic or True North setting.  (iOS only at present)
MMSI numbers to contact nearby boats on via VHF.
SART support – alarms and reports SART's within 30NM.
Support for local AIS data feeds via WiFi ( iOS and android) or USB (android only), e.g. easyAIS, Digital Yacht, Lowrance, Simrad and B&G GoFree™
Free Apple Watch support with Compass, SOG, COG, HDG, AIS, MOB, Countdown timer and torch.
The following add-on features are available via In App Purchases (IAP):-
AIS Sharing ( Virtual AIS Receiver) so other apps like Navionics, iNavX and OpenCPN  on your device and network can display live ship positions around you too (Free to try).
Augmented Reality View including night vision, see ship positions and details overlaid on the live camera view. Includes Infra-red night vision and through fog with the amazing FLIR ONE** camera (iOS only at present, free to try in demo mode).
LiveView – displays ships at true scale when zoomed in and also increase the AIS refresh frequency.
NOAA US raster charts
UK&IE raster charts
*If you don't have an MMSI number just ask us.
**You will need a FLIRONE camera to use the night vision feature.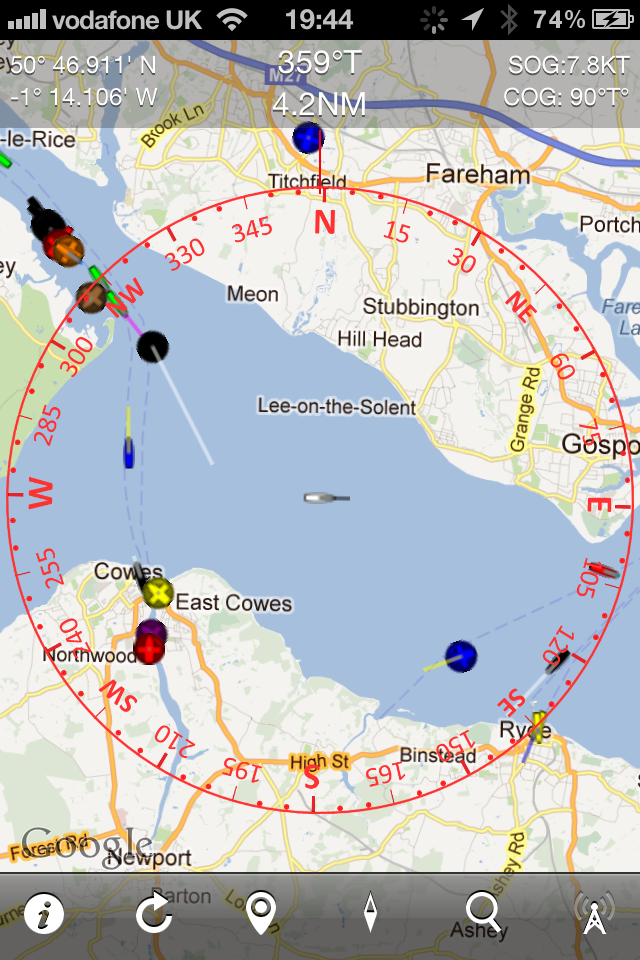 CPA Alarm

Augmented Reality
AR Infra-red Night vision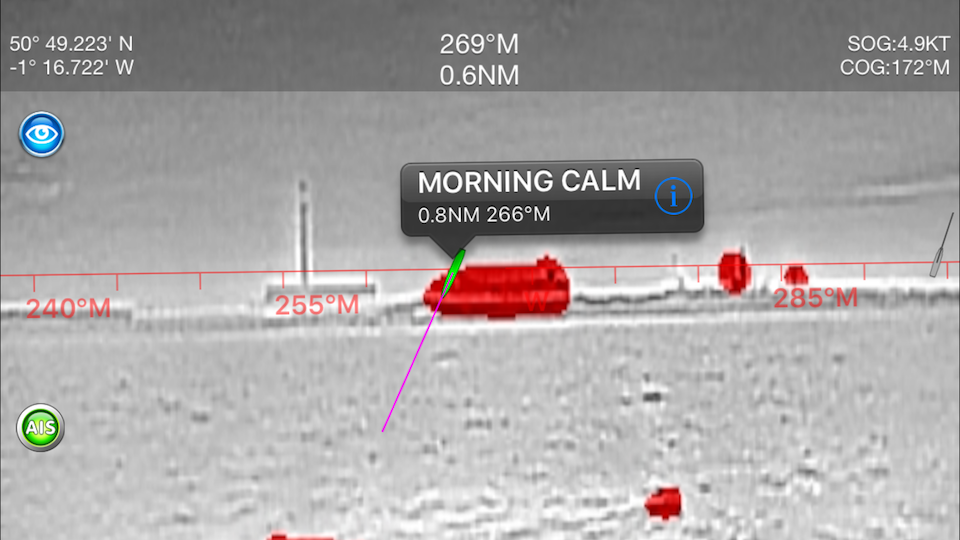 Spot ships at night in the dark and in fog up to 3 NM away with Boat Beacon's support for the amazingly low priced FLIR ONE Infra-red camera. Read about our review of the FLIR ONE with Practical Boat Owner and how we could spot a MOB up to 50m away in pitch black here http://pocketmariner.com/boatbeaconflirone/  :-
FLIROne for iOS
Other uses for Boat Beacon
We love hearing how our customers are using Boat Beacon – here are just a few examples of stories that we've heard…
Arm all the crews in a race with Boat Beacon and watch real time updates on their positions
Keep a watch on the other boats in your flotilla when sailing in a group.
Check your boat is where you left it!
Boat Beacon is available now in the App Store for iPhone and iPad and in the Google Play Store for Android phones and tablets.
To be seen on Internet AIS systems you must have a valid MMSI number for your boat. In the US you can obtain an MMSI in minutes by visiting the USCG approved agent and using their online form. In the UK you can get one for free by visiting Ofcom MMSI. Alternatively you can ask us for an internet only MMSI number – email Pocket Mariner.
Coverage
Boat Beacon relies on a network of shore based AIS stations for the live ship data.  Our coverage is global and amongst the best in the industry, typically showing 80,000 or more live ship movements at any one time and a database of over 250,000 ships world wide. Our coverage is continuously increasing and if you would like to help by adding coverage for your area please let us know. For good locations we will provide the equipment for free. There is more info about how to do this here – Cover your area.

Here is a snapshot of our global coverage:-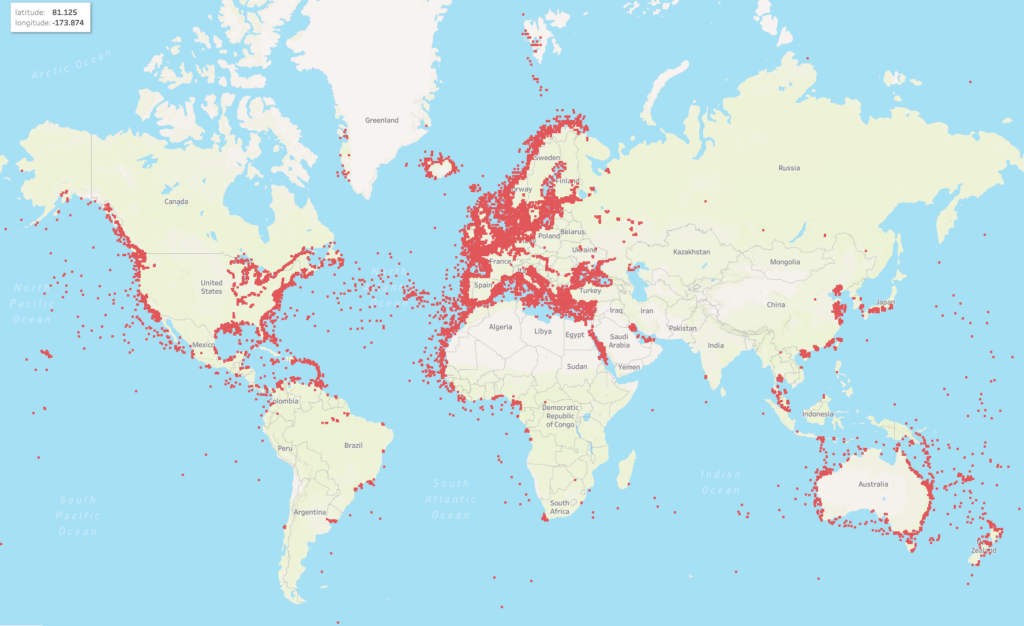 Requirements:
iPhone, iPod or iPad . e.g. iPhone 3GS, 4, 5 or later, with an active Internet connection.
We recommend Garmin Glo to enable gps on iPod and WiFi only iPads via Bluetooth.
Android device with GPS and an internet connection.
Fortunately Cellular data coverage extends upto 15 miles out to sea and most popular boating areas are covered. Check out these coverage maps – 2G is sufficient for Boat Beacon:
Support:
iPhone support and FAQ
Android support and FAQ
Set up an AIS receiver to cover your area
or please email us at Pocket Mariner
Recommended Devices
We are pleased to recommend AIS devices from Companies that we have found useful at sea and inter-operate with Boat Beacon
easyAIS from weatherdock
Recommended Apps
We are pleased to recommend other apps that we have found useful while at sea – Boat Battery helps you monitor your 12 and 24 batteries. And our own Compass Eye gives you an AR Bearings Compass.
License and Disclaimer
NOT FOR NAVIGATION
This program is distributed in the hope that it will be useful, but WITHOUT ANY WARRANTY. Boat Beacon should not be relied upon to determine precise locations, proximity, distance, or direction or make navigational decisions. The author assumes no liability for damages arising from use of this program.
AIS data is sourced from a variety of voluntary shore stations across the world and there is no guarantee of service or availability.
The accuracy of digital compass headings can be affected by magnetic or other environmental interference, including interference caused by proximity to the magnets contained in the iPhone earbuds. The compass may need to be calibrated from time to time. When the device displays the calibration alert, move the device in a figure 8 motion until the calibration screen disappears. See http://support.apple.com/kb/TS2767 for more information.
N.B. This is not an AIS VHF Transponder. Your boat will not show up on other Ship based VHF AIS systems (unless they are linked to a common Global AIS system).