There is a really useful app called
gps2ip
that lets you share your gps position from your iPhone to SeaNav running on your iPad or MacBook when they are both on the same wifi network or the iPad is connected to your iPhone's Hotspot. This is a way to get GPS on a Wifi only iPad or MacBook without having to use an external GPS dongle.
Here are instructions on how to set it up using TCP server mode where the iPad connects to your iPhone (the simplest and just 3 steps). N.N. If you are using your iPhone Hotspot please follow the UDP push connection instructions further below.
1. Download  gps2ip to your iPhone from the App Store and start GPS2IP. Note the iPhone Server IP address and Port number ( 192.168.1.107 and 11123 in the example  below). Here is a link 
gps2ip
 on the App Store.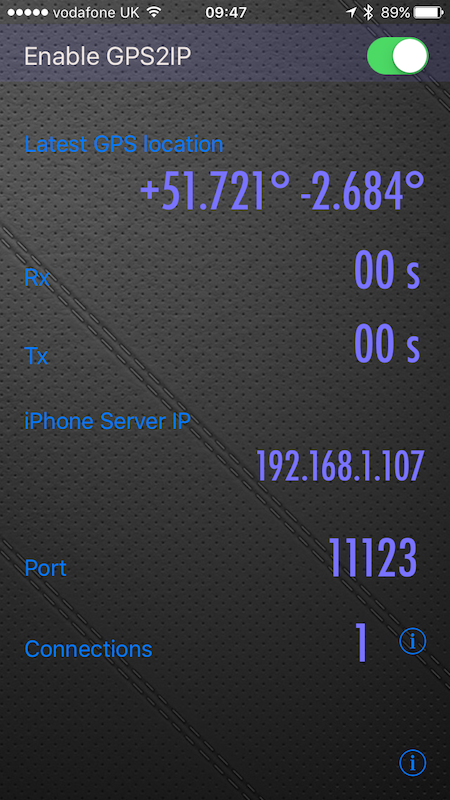 3. Tap the i button bottom right to go into GPS2IP settings, scroll down and check GPS2IP is in TCP Server mode (the default on a fresh install) and that it is set to run in background so you don't lose the GPS if you go to another app or the iPhone screen times off.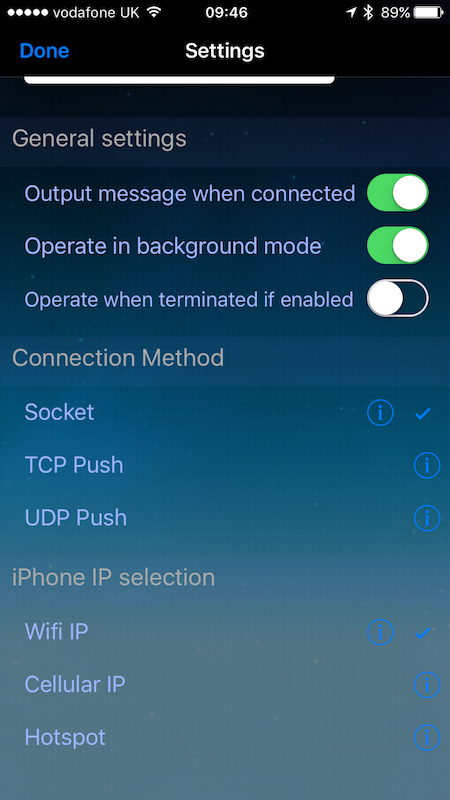 3. Go into SeaNav Settings on your iPad, Select the AIS, GPS and NMEA Link setting. Tap TCP to select it, enter the Port (11123) and Host IP address (192.168.1.107) noted from GPS2IP on your iPhone and then tap Start and the GPS data will start flowing.
  If not – go back and re-start gps2ip. and try again.
P.S. Please make sure your iPhone/iPad time is correct to within 30s  – we ignore external gps data if it is more than 30s outside of the time the iphone thinks it is……
Alternatively you can use UDP push mode. This is the way to go if you are connecting via your iPhone hotspot. Here are instructions for setting up in UDP push mode
1. Download  gps2ip to your iPhone from the App Store. Here is a link 
gps2ip
2. On your iPad lookup its IP address – go to Apple Settings/Wifi/ tap the i next to the current Wifi connection  and copy down the IP address e.g. 192.168.1.110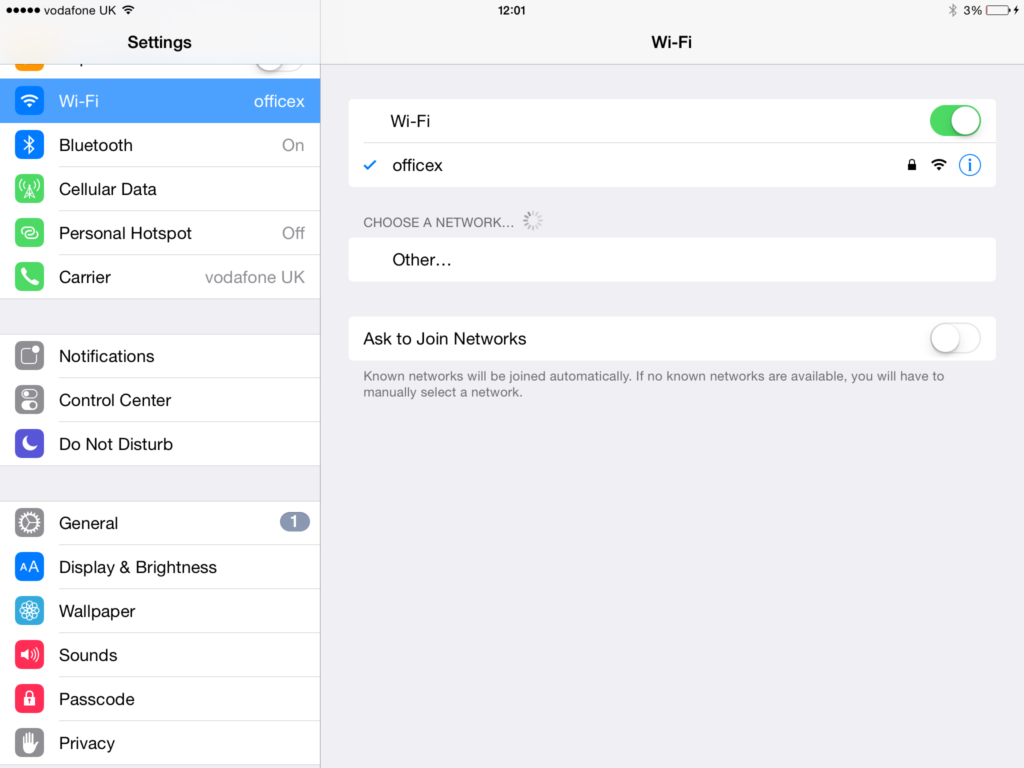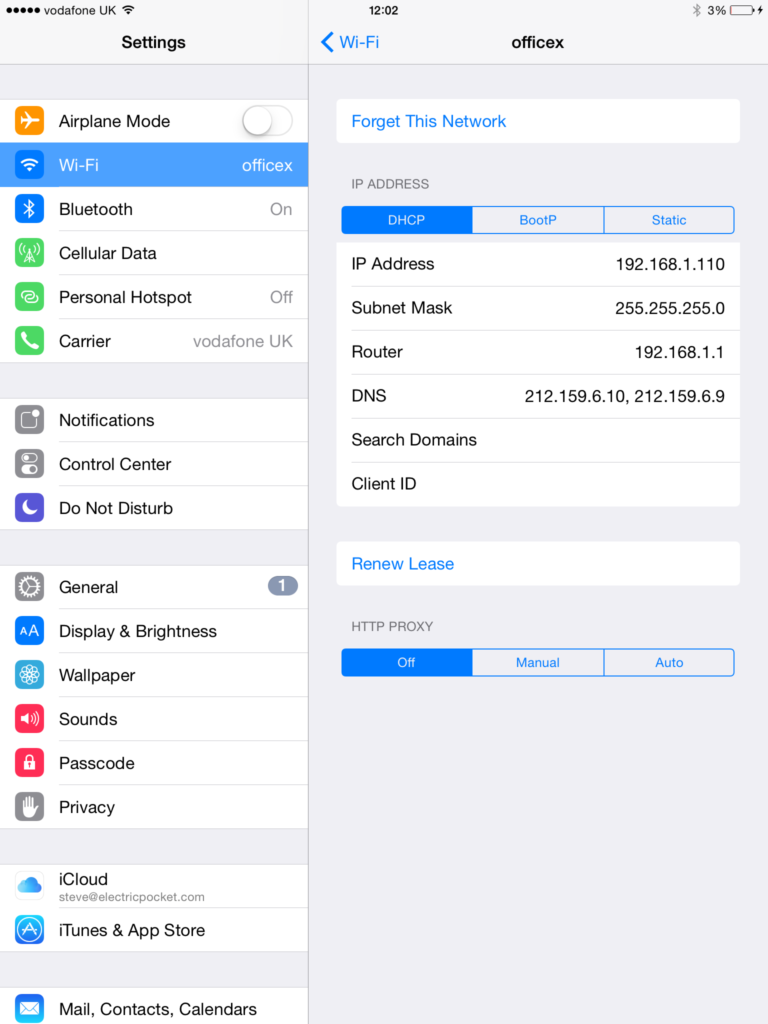 3. On your iPhone , launch gps2ip and set it to use UDP push. Tap the i at the bottom right of the main screen,
4. Scroll down to Connection method, tap the i next to UDP and
5. Enter the IP address of your iPad (e.g. 192.168.1.110) and leave the port number as the default e.g. 11123.
6. Tap done and then tap the UDP line to get a tick next to it. Tap Done.
7. Go back to your iPad and in SeaNav go to settings/AIS & GPS Link/, select UDP and enter the port number 11123 (as set in gps2ip). Then tap Start. Go back to GPS2IP on your iPhone and Enable GPS2IP by the top slide switch (it's important to enable GPS2IP after the iPad is already listening (Started). you should then see gps data scroll past. Tap done and your iPad will now use the live GPS position, speed and course from your iPhone 🙂