The newest member of the SeaNav app family brings our acclaimed marine charts to Mac – letting you explore and plan your boating trips on your Mac, then export your route to your iPhone for navigation while at sea – or plug in a GPS unit, and navigate with your laptop and our hi-res vector charts. SeaNav for Mac US has the latest NOAA ENC Digital Vector Marine charts covering the whole of the USA and Great Lakes, SeaNav for Mac UK has the latest UKHO UK and Ireland vector charts. SeaNav for Mac is exclusively available on the Mac App Store.
Includes NOAA US Coastal, Great Lakes and USACE Inland Charts.
Buoys, lights etc. are tappable with bearing and distance.
Seamless fast panning and zooming across charts.
Route Planning and tracking with Waypoints, SOG, COG, ETA etc.
Charts work offline
Route export, import and sharing (KML, share via disk or Dropbox)
Live AIS Ship positions
Share routes and tracks with SeaNav on iPhone and iPad
SeaNav uses the latest Digital Vector charts providing a wealth of benefits and advantages over raster charts. Buoys, Lights, Bridges, Depth Contours, Depth Soundings, Rocks, Anchorage areas, NOAA Weather Buoys etc. are all selectable and have real time distance, bearing and detail information. Turn off layers to de-clutter the display and only show what is important at the time. Tides, moon and sun times and weather are also all available at your fingertips.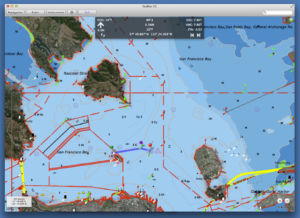 SeaNav lets you measure distances and bearings and record waypoints on routes. When at sea, the app's Sailing HUD shows your position, Course over ground (COG), Speed over ground (SOG), Vector Made Good (VMG), Estimated Time of Arrival (ETA), Distance and bearing to next Waypoint. Waypoint reached alerts, auto-routing to the next waypoint and collision alerts.
SeaNav is also available for iOS, so you can plan a route on your Mac and share the route with your iPhone or iPad – or take your iPhone sailing, then send your track back to your Mac.
Plug in your GPS unit and go – SeaNav works with Bluetooth and serial GPS units, and those which provide location or AIS service via TCP or UDP or TCP, including devices from Lowrance, Simrad and B&G GoFree. But GPS is only required for real time route navigation, you can plan routes without GPS then send them to your iPhone for use while at sea. SeaNav's optional Real time AIS, Tides and Weather information require an active internet connection.
Your purchase of SeaNav includes 12 months free updates to the included US chart set.
SeaNav for Mac is exclusively available on the Mac App Store.